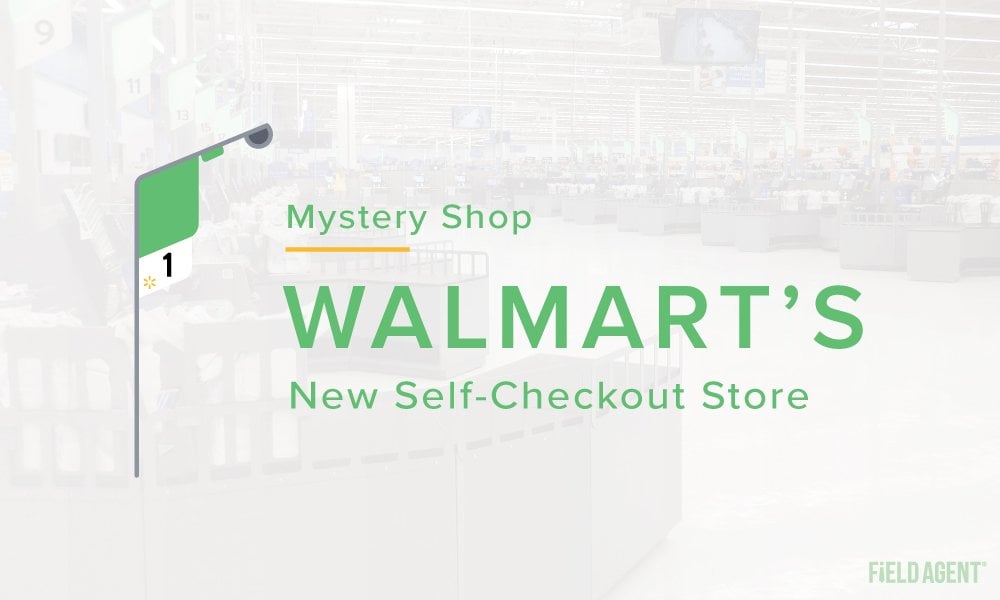 Walmart EE. UU. de cajas tradicionales a espacios de auto-checkout
Walmart en su hipermercado de Fayetteville (Arkansas) ha suprimido las líneas de caja tradicionales sustituyéndolas por espacios con puntos de auto-checkout, pero ¿que piensan los compradores de esta decisión?.Veamos en este Informe especial creado por Field Agent (EE. UU.) ...
------
The coronavirus has retailers thinking long and hard about the necessity of safeguarding both shoppers and employees, and the "invention" has taken—and will continue to take—various forms.
Walmart, for one, made headlines recently with a new front-end checkout layout and process in one of its supercenters. Store #359 in Fayetteville, Arkansas (which happens to be home base for all of us at Field Agent—"Hi, everyone" 👋🏼) has kicked its traditional, clerk-operated checkout lanes to the curb, replacing them entirely with self-checkout kiosks.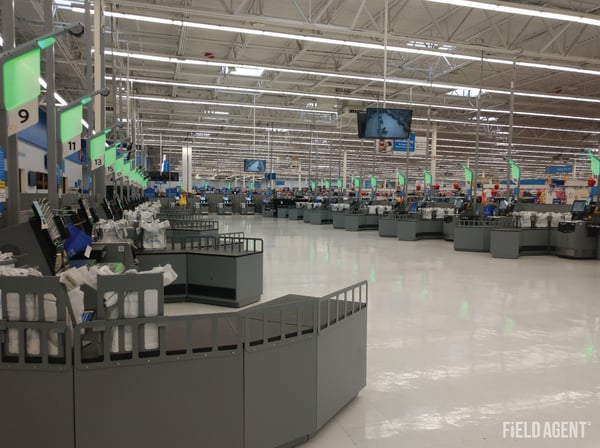 Of course, for Walmart, it's not just about COVID-19; it's also about efficiency.
According to spokesperson Kory Lundberg, the new configuration is a chance for the retailer to answer the question, "How can we move people through [checkout] and get them on to the rest of their day as quickly as possible?"
But, do shoppers like this new self-checkout arrangement?
That is the question. So, let's get an answer.
See Also: Walmart X: Inside the Customer Experience at Walmart [Special Report]
Mystery Shopping Walmart's Self-Checkout Store
Over the weekend, Endcaps & Insights used the Field Agent on-demand platform to send 20 agents to Walmart #359. There, agents purchased at least three items totaling $5 or more through Walmart's new front-end checkout system.
Agents captured photos throughout the checkout process, and we share some of these below. Following the in-store phase, Endcaps & Insights posed several questions to participants about their experience with the self-checkout store, to understand their likes, dislikes, and preferences.
The self-checkout area at Store #359 works like this:
Shoppers enter the large, rectangular checkout area from one of two entrances. One or more associates may be at the entrance, greeting and directing shoppers.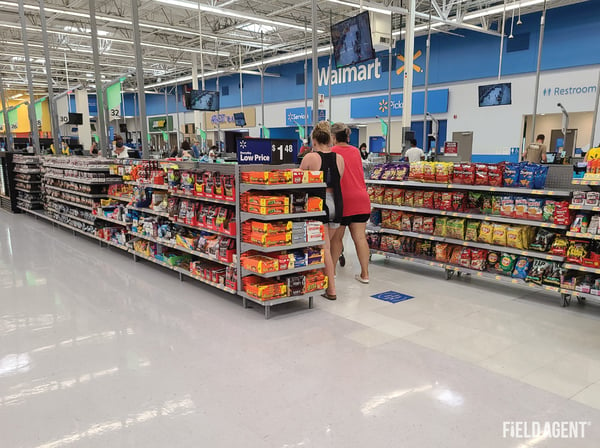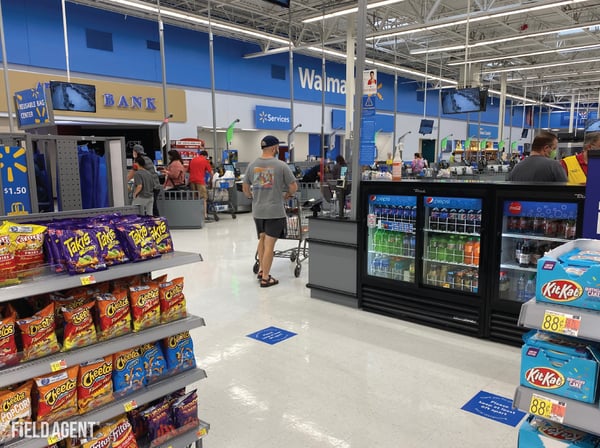 The checkout area is demarcated from the rest of the store by a long wall lined with snacks, drinks, and other impulse items. There are also dedicated "Grab & Go" areas just outside the checkout area with hot and cold foods, beverages (including single-serve alcohol), and the like.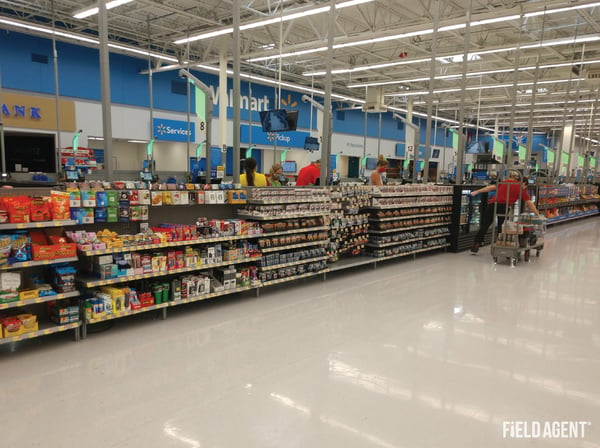 Inside the checkout area, yellow-vested Walmart associates stand at-ready.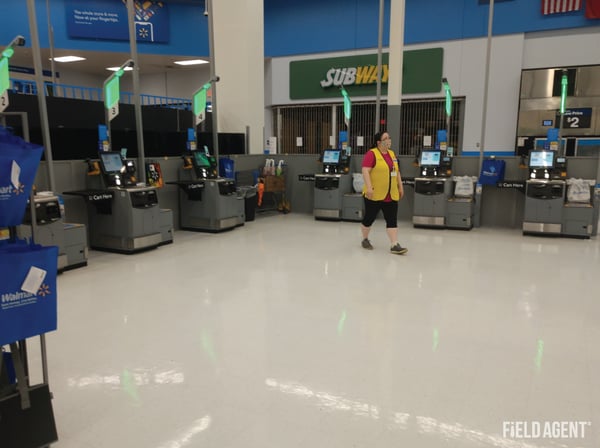 Green lights atop each self-checkout kiosk notify shoppers when stations are open and available.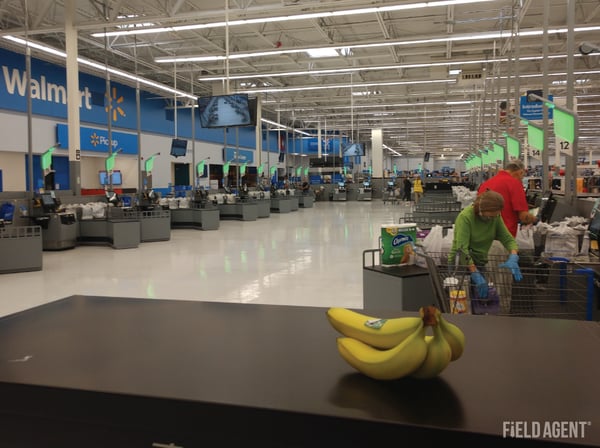 In all, 38 self-checkout kiosks line the perimeter of the checkout area.
Each kiosk includes stationary and handheld scanning equipment, a bagging area, and a place to park the shopping cart.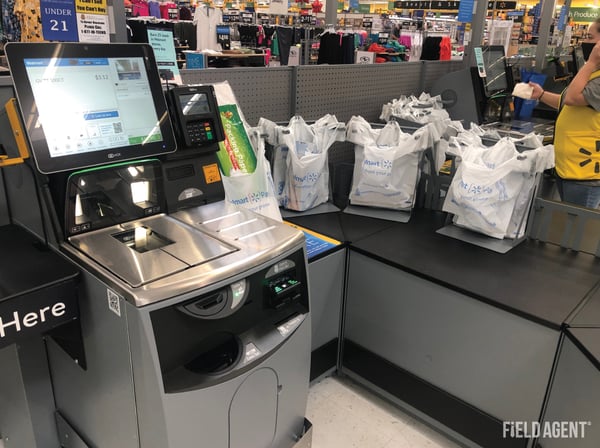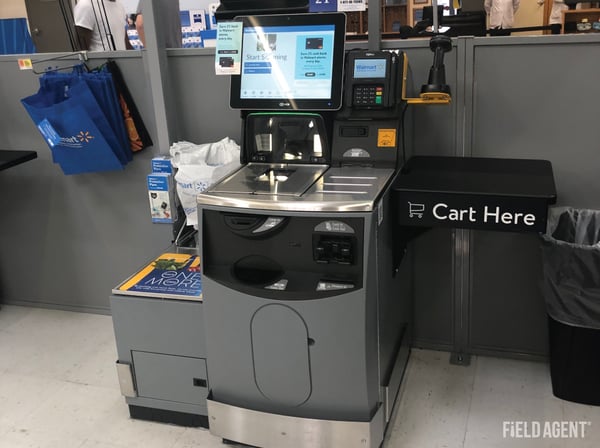 After the purchase, customers leave through one of a few exit ways on the opposite side of the checkout area from the entrances.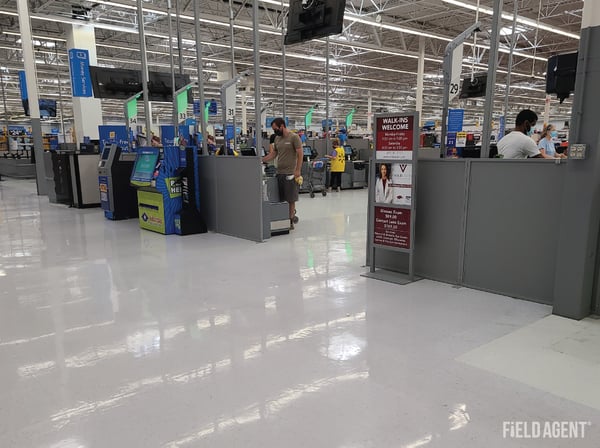 Those are the ins-and-outs, but what did shoppers think about Walmart's new front-end checkout system? Is it a keeper?
Below we offer the results from this mystery shop as a 7-question QuickFire Q&A.
QuickFire Q&A: Walmart's New Self-Checkout Configuration
1. What words would you use to describe the new checkout layout/process?
After purchasing their items, each participant had the chance to suggest three words that best describe the new self-checkout configuration.
The most common word? "Fast" (or "quick"). It was cited by 11 different agents. Close behind in second place was "easy," mentioned 10 times.
Other words suggested more than once include:
"Efficient" (6 mentions)
"Open"/"roomy"/"spacious" (6)
"Big"/"Large" (3)
"Clean" (3)
"Busy" (2)
"Helpful" (2)
"Convenient" (2)
2. What did shoppers particularly like about the self-checkout configuration?
We also gave all 20 participants the opportunity to express three things they particularly liked about the new self-checkout arrangement.
Their responses aggregated primarily around four themes, in no particular order:
The number of kiosks
Speed of the checkout process
Number of associates available to help
Spaciousness of checkout area ("contact-less") and self-checkout stations
As one agent commented,
"I enjoyed the ease of shopping and checking out."
While another said,
"The remodel of the checkout system showed me that this store is taking COVID seriously and making improvements to have the least contact it can. I think it shows [the store's] efficiency and response to a crisis."
3. What did they dislike about the changes to the front-end checkout area?
Same question, but this time we asked agents for three things they disliked.
Primary themes included:
Difficulty scanning multiple items (i.e., better for buying a few items)
The "crowd" of shoppers/associates
Kiosks situated too close to one another
Impersonal (i.e., little or no face-to-face interaction)
Concerns for certain groups (e.g., elderly, disabled, parents with kids, tax-free shoppers, alcohol-buyers) and their ability to conveniently use the system
In the words of one straight-shooting participant,
"Maybe I'm old-fashioned or even just a little bit lazy but walking a Walmart is like walking an entire football field. When it's time to checkout a lot of items, I'm tired and I would prefer the traditional check out system. However, when purchasing just a few items, I like the [speed] and efficiency of the self-checkout."
Notably, negative opinions (i.e., dislikes) were less common across the full results, but perhaps more intense than positive opinions.
4. How did participants rate the new self-checkout layout/process?
Following the experiential portion of the mystery shop, all 20 shoppers rated the self-checkout layout/process on several dimensions, with 5 "excellent" and 1 "poor."
As the graph shows, at 4.7, the new front-end checkout model received the highest marks for speed and efficiency—somewhere between "excellent" and "very good." At 3.5, however, participants were less positive about the configuration of the kiosks themselves (e.g., how they're laid out).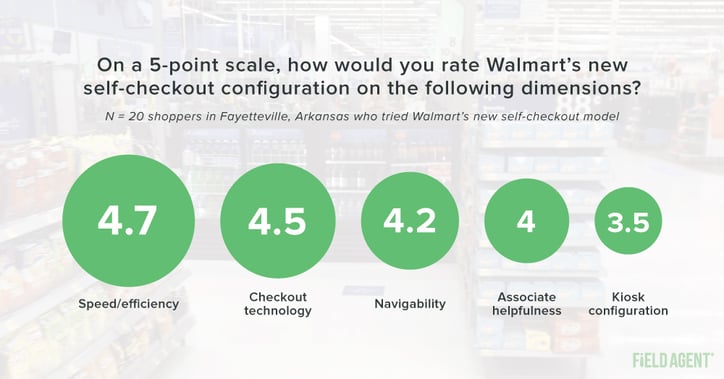 5.Which checkout system—self-checkout or traditional—do they prefer?
Here's maybe the most critical question: Do shoppers prefer the new self-checkout format over traditional, clerk-operated checkout lanes?
In a word, yes. But it likely depends on context. Some agents said they prefer the new self-checkout arrangement when purchasing relatively few items, but clerk-operated lines when stocking up.
And, as you can see in the graph, while 85% of participants said they prefer the new self-checkout model during an infectious outbreak like COVID-19, the layout/process might be less popular under "normal" conditions (i.e., when there isn't an outbreak).
6. Does the new arrangement make shoppers more or less likely to shop at the store in the future?
In all, exactly half of participants said they're more likely to shop at Store #359 following the change to the checkout system.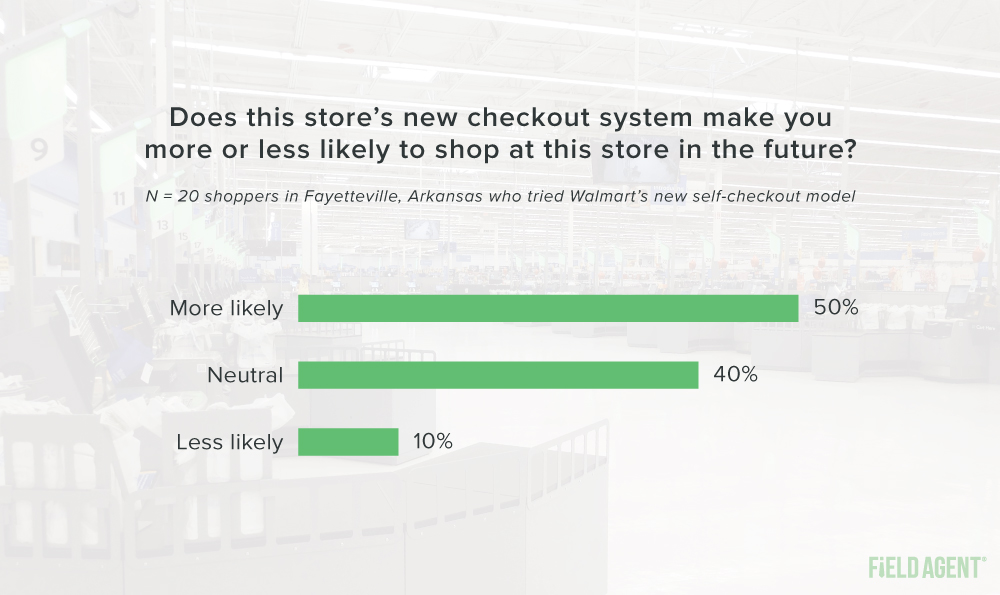 7. What suggestions do shoppers have for Walmart as it tweaks the operation?
Depending on the shopper and their experience with the new self-checkout system, suggestions were varied. Common suggestions included:
Staff the area with even more associates
Train associates to make it a more personal experience
Have associates constantly directing shoppers
Provide more space in each kiosk
Spread out kiosks even more
Provide more ways in and out of the checkout area
Make more accommodations for particular groups (e.g., disabled, alcohol-buyers, shoppers with multiple purchases)
Checking Out: What We Learned
Based on the results, we generally expect those who have used self-checkout in the past to be pleased with the new configuration. However, those shoppers unaccustomed to self-checkout, or who particularly like the option of traditional checkout when stocking up, buying produce, etc., will be the crux of the matter for Walmart.
As one participant said,
"I observed the lady [beside] me frustrated because she had a large load in her cart."
Overall, however, participants were more positive than negative about Walmart's reconfiguration. During a viral outbreak, fully 17 of 20 participants said, "Give me this new self-checkout system over traditional checkout," though this number falls to 13 of 20 under normal conditions.
Upbeat news for Walmart, though shoppers do see places to improve the current checkout arrangement at Store #359.
One thing's for sure: From checkout systems to grocery pickup, we at Endcaps & Insights will keep our eyes on developments across the retail industry…so we can inform you, the retail professional, what shoppers think.